THE GREATEST SCAPES – PLANTING GARLIC
Thursday November 25th 2010, 1:48 pm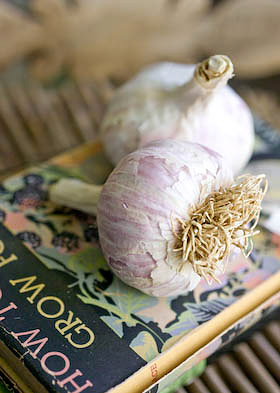 Though parts of the country have had snowfall overnight, here in the Forest of Dean, it may be crisp and cold, but the sun is shining. I really must get my garlic planted today. I bought two bulbs a month or so ago from Dobies; Garlic Vayo, a hardneck variety for Autumn planting, and was really pleased when the plump healthy bulbs arrived in the post. Hardneck garlic varieties need to be planted now so that they experience at least two months of the cold and frost they need to form their cloves. They are also the kind you need to grow if you want to be able to harvest garlic scapes, the winding flower stems they throw up that are a delicacy when pickled.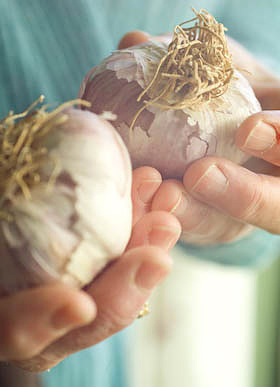 I always associate garlic scapes with Elspeth Thompson. Elspeth, in case she isn't familiar to you, was an amazingly talented and beautiful garden writer, who tragically died earlier this year. I can't really call her a close friend but I did get to know her to some degree over the last few years. Elspeth lived a few streets over from me in Brixton and I knew which was her house, even though I didn't know her. When I took on my first allotment, her book The Urban Gardener, a compilation of her weekly newspaper columns in the weekend Telegraph, became my bible and as it was written in a diary format, I could dip into it and look up the features that Elspeth had written about for a particular week. She was ahead of the game, always. She started to write about her allotment well before growing your own veg in the city became the most fashionable thing to do. I knew where her allotment site was and that she walked her dog in the park that I lived alongside. I knew people who were her friends but I never actually knew her.
After I left London, one day out of the blue, she sent me an email asking me if I knew anything about pickling garlic flowers. She had eaten some at a wedding and thought they were fantastic. Wow, it is quite a thrill when someone you've admired from afar just happens to get in touch. Embarrassingly I knew ****all about garlic flowers but in true journalistic style I soon found out and sent her back lots of information. And so began our ongoing email correspondence.
All my research was not for nothing. The flowers, actually known as scapes, are never found for sale in the UK so growing your own is the only way to experience them. So now is the moment when you need to get planting if you are to have scapes to pickle next year. Choose a suitable hardneck garlic variety and plant the individual cloves in drills, 10cm (4in) apart with 20cm (8in) between rows. You can use a dibber to make holes to drop them in, making sure they are sitting the right way up with the root end underneath. Cover with 25mm (1in) of soil. You should have green garlic to lift next May/July and hopefully plenty of scapes to pickle as well.
Dear Elspeth, you will always be in my thoughts as I plant garlic now and in the years ahead and admire jars of pickled scapes on the pantry shelves. You were a truly amazing, inspirational and beautiful person. As a gardener I'm sure you would understand this unconventional tribute.