JAM JARS & MARMITE
Monday February 28th 2011, 2:27 pm

This is supposed to be a quick one, but in true geek style has become something more. Inspired by Kerstin Rodger aka MsMarmiteLover trailblazer and proprietor of the first underground supper club in the UK, whose blog post at The English can Cook about her love of jars and forthcoming supper club event this Friday Jar Food – Pickles, Potions and Preserves , got me thinking about …. jars. Seemed like a quick blog post to gather some of my favourite jars together, without it becoming some big deal would be a possibility. Trouble is, that when the differences in ridges on glass are something you admire, you get sort of, caught up. Anyway, here are just a few from my collection and I hope you enjoy them as much as I do.
Vintage French jam jars are such classics and feature plenty of ridges and facets in all sorts of variations. A good heavy handful and chunky lipped edge are what you want. A few nibbles around the top are OK too. You can always use them as candle holders and vases if you don't have any confiture to fill them with. I will be selling some of my vintage French jam jars at the Selvedge Spring Fair on the 2nd April in London. Follow link for more info.
When I wrote Fruits of The Earth my preserving book, (sorry currently out of print but will be available again in paperback in June) the publisher asked me to use some Ball jars, to suit the American market. They are virtually impossible to buy here in the UK but by one means or another, I've acquired a few along the way. These vintage ones in beautiful turquoise glass look great when used as vases.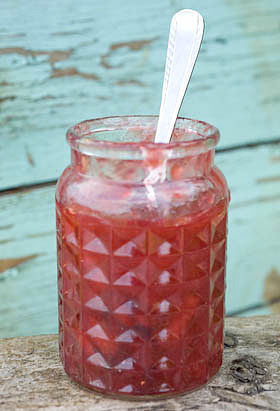 I always look out for interesting shaped jars and my vintage English Wye Valley Preserves jars (I've got 2 of them) are real favourites. They just wouldn't make them like that these days. Finding them was sheer fluke, so sorry no tips on where to look. Just keep your eyes peeled.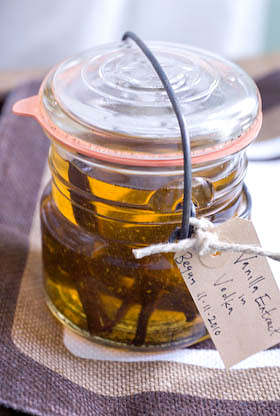 Another Ball canning jar, this time with wire bale clip top. These aren't recommended any more for canning but people do still use them. Finding new rubber seals is the problem. See the brilliant Food in Jars for more info about this.
I love Ball quilted jelly jars and again you can't buy them in the UK. My friend Chris brought me 2 back from the US a while ago and I use them repeatedly. They are so cute and worth looking out for if you are in the States.
I've been given quite a few old Kilner jars by people. Often I'm given them because their owners think them now redundant but in fact you can still buy replacement seals for them. Peter Denyer at The Kilner Jar knows everything there is to know about Kilner jars, sells the seals and also reconditions the rusty tops. A real niche business. These Kilner Improved jars are great because they have a glass lid. For canning, there is something really satisfying about only natural materials, glass and natural rubber, being used here. Look out for old jars on your local Freecycle.
Weck jars and flasks have such simple lines and are great for the modern pantry. Again, just glass and rubber used here and they work so reliably. I'm a big fan of canning cordials and syrups and find the 1/4 and 1/2 litre size flasks most useful. Weck jars are really easy to open as you simply pull the rubber tongue to release the seal. Also seals are reusable.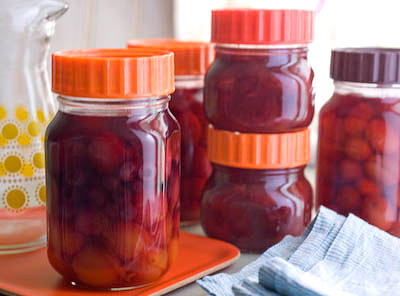 With great 70's style, these vintage Ravenhead Kilner jars are another favourite that I use a lot. The screw bands were made in orange, red and brown plastic, and also white apparently, but I've never seen one of them. Again try The Kilner Jar for replacement seals. The last canned jar I tried to open was so well sealed that I had to email Peter Denyer for advice on how to prize off the lid. In true expert fashion, he told me to carefully slide a knife under the seal and gently lever. You have to be careful when doing this as chipped edges can totally ruin a canning jar and make it unusable.
Kerstin's Jar Food supper club is one NOT to be missed. Also her book Supper Club – Recipes and Notes from The Underground Restaurant is available to pre order on Amazon and will be published at the end of March.