THE BIG AUTUMN BLANKET WASHATHON
Wednesday September 01st 2010, 5:46 pm

Today is a gloriously sunny day but it doesn't fool me. We've already had a few nippy evenings, sent to prepare us for autumn ahead. Hopefully, we're due a good September weatherwise but Autumn's coming whether we like it or not. So as well as lots of canning projects over the next 2 months to stock up the store cupboard (more plums, damsons, apples as well as pears, quinces and all the hedgerow berries to look forward too), I'm also trying to get a few other jobs done to make life warm and cosy. I really must replace the fire bricks in the Rayburn soon, it's no good leaving it till the weather has already taken a turn for the worse. There is a box of them beside the Rayburn, been there since last year. And I need to get the chimneys swept.
I intended laundering all my blankets in the spring, but didn't get around to it, so today resolved to make a start. I love blankets and as you can see, once they are collected together, I have quite a few. Vintage Welsh blankets are my favourites, the weaves and colours are just wonderful. So first I piled all the blankets up so I can work my way through them, washing them one by one, restoring them, to their pristine glory ready for colder months ahead. I have 5 cats so my house consists of lots of cat beds, in fact it is lots of cat beds all joined together. The blankets collect fur as well as dirty wet paw marks.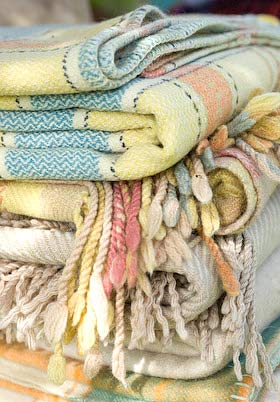 I have on occasions washed blankets in the washing machine with sometimes good, sometimes disastrous results. I'm not prepared to chance it with any of my precious blankets. They are all pure wool and some feel more robust than others. If your blankets say on the label to wash in the machine, then you'll be fine. Don't think any of mine have labels so common sense is the best approach. Once wet, they become big heavy unwieldy things to handle so you do need a bit of muscle and a cup of tea and a biscuit (or a prize winning scone perhaps!) every now and again.
HOW TO WASH A BLANKET
Give your blanket a good shake out doors. If like mine, they have animal hairs on them, it is a good idea to run the hoover over the hairy bits, holding it taught as the suction of the nozzle removes the excess. If your blanket has any stains, these will need to be dealt with as appropriate for its type. A good old fashioned bar of soap rubbed into the stained area will sort out most stains, but dried blood or grease marks may require a product designed specifically for that job. Don't rub the area with too much gusto otherwise it could felt the surface of the wool.
If your blanket is too large to fit in the sink use the bath. Fill the sink or bath with plenty of lukewarm water, so the blanket can move about in it, and add some soap flakes, Woolite or Stergene to give a good lather. Lower the blanket into the water and agitate it gently, working around the blanket but not rubbing it excessively. Remove the plug and allow the water to drain away and try and gently squeeze out as much excess water from the blanket as you can. This is where you need muscles. A washing up bowl or bucket is also useful here, as you can lift the blanket into it while you rinse out the sink or bath and refill with clean warm water for the first rinse. It is really important that wool blankets are not subjected to sharp changes in temperature to prevent felting, so try to keep the water at a similar lukewarm temperature throughout.
Rinse the blanket a couple of times in clean water until the water stays clean and shows no sign of suds. You can add fabric conditioner to the final rinse if you wish. Lift the blanket and squeeze as much water as you can from it. If you have a washing machine robust enough to take the wet blanket you can then spin it in the machine. If the blanket is too heavy for your machine you will need to fold the blanket, place it flat on a large towel and then roll the towel up so it soaks up the excess liquid from the blanket.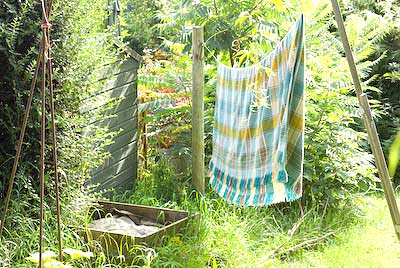 Hang the damp blanket on a washing line out in the fresh air and use plenty of clothes pegs to hold it straight and taut. Pull the blanket into shape so warp and weft threads run straight, giving any tight edges a gentle tug and stroke out any creases. A gentle breeze on a warm day is the ideal scenario so your blanket will dry quickly and be in great shape. If you have the time, move the blanket part way through its drying time and re-peg, that way you wont end up with a crease where it is folded over the line and it will prevent the pegs from making indented marks on the fabric. Your blanket should now be clean and soft as well as smelling as fresh as a daisy.
So that's one blanket sorted. Only another 15 to go!