HOW TO PEEL A POTATO
Sunday February 17th 2008, 2:02 pm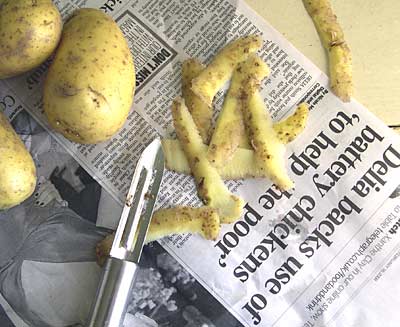 The other day I was watching a food programme on Sky 3 called Taste. They were doing a feature about what to 'cook' for a girlie night in using ready-made food and the presenter came out with the phrase, 'I'm not suggesting you peel a potato'. I almost choked on hearing this and the words have been going round in my head ever since. God forbid, anyone should peel a potato and to suggest such a thing…well! Once upon a time life was too short to stuff a mushroom, now it's too busy to peel a potato.
Yesterday I bought the Saturday papers including a paper with a feature about Delia and her upcoming new TV series and book, How To Cheat At Cooking, where she will be using pre-prepared bought-in ingredients, such as ready-made mashed potatoes, cook-in sauces and other ingredients that need to be hyphenated, to rustle up lovely meals in a moment. This is aimed at busy people who don't have much time and are also quite poor so need to eat battery farmed chickens (quite obviously a distortion of the facts, in a nutshell, based on what I have read in the paper, Chinese-whispers-stylee, pass it on!). There are bound to be many words written about her and the series in the weeks ahead as she holds such an iconic status here in the UK and this series is her comeback, having retired from cookery writing 6 years ago to concentrate on her career as a footballer.
I must admit I hold her in the highest esteem myself, having learnt to cook with her. When I lived in two places I made sure the 3 part cookery course (the first time round version) and her Summer Collection were duplicated, one in each home, as I consider them to be 'must haves'. I know many of the recipes especially from her earlier books by heart and on numerous occasions Delia recipes have been served up at momentus family gatherings. A sort of mythical Delia inhabits my families consciousness. She has an uncanny knack of being ahead of the game, like she just knows something the rest of us are struggling to put our finger on, but I am feeling very wobbly about this new theme she has embraced.
I am not a particular fan of the 'quick and easy' route to anything, just for the sake of it. Some things simply are quick and easy and still work brilliantly and that's great, but there is something at the core of this that bothers me. I think we've got an obsession with being busy people. Most of us ARE busy, that's a given, but the cult of busy is about making ourselves feel significant by banging on about how busy we are all the time. There is a huge industry out there catering for our busy lives and that relies on us buying into being really 'busy people'. What came first, the chicken or the egg?
Go on, step outside the box. Find the time to peel a potato. Upend the cliche.