WHERE THE WILD GARLIC LIVES
Tuesday May 11th 2010, 8:32 pm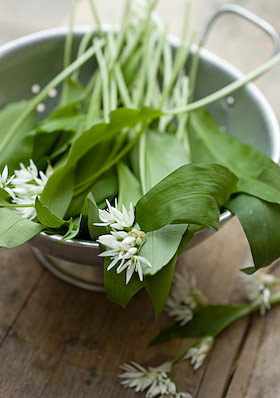 Right now, wild garlic seems to be the best thing since sliced bread. It is extraordinary that it has become such a fashionable ingredient and that people consider it somehow wacky and daring to make use if it. This poses the question, why has such a wonderful herb been overlooked for so long. Belonging to the allium family, once established in a habitat that meets its requirements, it grows prolifically forming a lush carpet of smooth pointed leaves, later topped with delicate white flowers for about 6-8 weeks in the spring. Right now, round here, it is looking just perfect and there's loads of the stuff. It is growing in abundance all around the little chapel just a hop skip and jump from my house so I am doing my best to make the most of it.
In fact wild garlic is a really useful plant and all of its parts are edible. Someone told me today of a local 'professional' forager who when the flowers go over and set their seed goes round with a little portable vacuum cleaner and hoovers them up. He sells them to top restaurants for grinding as a seasoning. The flowers can be added to salads, the bulbs can be pickled and the leaves can be used to bring their delicious flavour to stir fries and of course pesto. Anyone who hasn't tried wild garlic is missing a trick. Here is a recipe for wild garlic pesto, which might get you started on your own daring food journey. Watch out Ray Mears!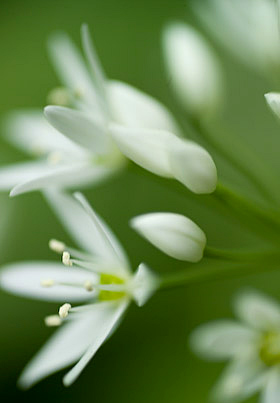 WILD GARLIC PESTO
Makes about 350g
100g wild garlic leaves
60g parmesan cheese or a similar hard cheese (I like this vegetarian one )
60g pinenuts
120ml cold pressed rapeseed oil or virgin olive oil (I've been using this one )
salt and pepper
Wash and dry the garlic leaves using a salad spinner or patt them dry with kitchen towel. Grate the cheese finely in a food processor then tip out into a bowl. Lightly roast the pine nuts to heighten their flavour taking great care not to overdo it or they'll burn. Wizz the nuts in the food processor to grind them then add the cheese and half the leaves roughly torn. Blend till the leaves are finely chopped then add the rest of the leaves and blitz again. With the processor running, drizzle the oil into the pesto until it is all added and combined. Season with salt and pepper and pour into a sterilised jar for keeping in the fridge. By pouring some extra oil over the surface it should keep for a few weeks. A couple of spoonfuls stirred into linguine is just perfect and topped with a handful of chargrilled asparagus and a few Parmesan shavings makes it heaven on a plate.
You can freeze pesto, so that is the best way to extend the season for this delicious sauce. I have seen it written to leave out the cheese before freezing, but as Parmesan freezes well, I don't think that is necessary. I have taken to freezing single portions of pesto in individual plastic containers and right now my freezer is looking well stocked.