A (LAUNDRY RELATED) PHOTO OPPORTUNITY
Thursday March 11th 2010, 9:04 am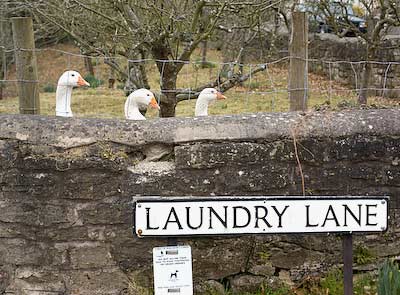 I am always on the look out for the perfect washing line to photograph and have a list of locations lined up. A bit like a bus tour of celebrities homes in Hollywood, I could take you on a tour of the Forest of Dean to show you my favourite washing lines. There's the one that is tied directly onto the front of a Georgian house, that in spring is completely covered with wisteria. There is another strung across a well tended small holding; as the year progresses the laundry blows in the breeze above a carpet of cabbages and kale. Another favourite, is in the dip of a valley, so I'm sure that I will one day be able to aim and focus my camera and capture the washing line surrounded by the rising valley beyond. For that location I am looking for a Walton's style (as in John Boy Walton) pick up truck to be parked in a particular spot and the yellow climbing rose that grows against a little greenhouse at one end of the washing line needs to be in flower.
You see the essence of this is that you really do have to be ready to capture the moment. Great landscape photographs are sometimes taken at a lucky moment, the photographer just happened to be there, see the picture and shoot. But more often than not, the image was the result of a well planned operation. The photographer saw the location and over time planned how to get the perfect shot, studied the way the light moves across the terrain, worked out the exact place to set up the tripod, what time in the morning they would need to set off to get there before the sun comes up etc. Sometimes the opportunity will be a one and only.
I've had a few that have got away through my own inability to get up and go. Like the wisteria clad house that year after year gave us locals a spectacular display. It was always in my mind to knock on their door and get myself ready to take the definitive washing line shot, but other events were more pressing so it would be left for another year. Then they flippin-well repointed and renovated the house which meant the wisteria was torn down. I feel sick just thinking about it, even now.
I often point out these locations to friends as we drive around. For some reason they are never as excited as me and sometimes completely ignore me, so perhaps the bus trip for tourists idea wont have many takers. The jist of this story, told in a laundry themed way, is carpe diem; sieze the pleasures of the moment without concern for the future. If you don't get of your fat arse now they'll rip down the wisteria and you'll be left with regrets.