A VERY FINE JAR
Sunday August 16th 2009, 12:31 pm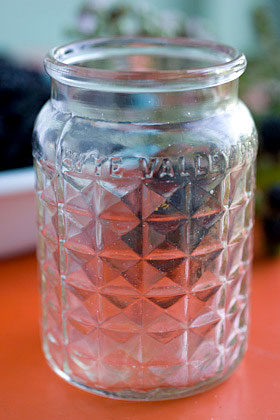 If you find an empty jam jar exciting, you are a very lucky person indeed. It surely means that you can appreciate the simple things in life that make just living a rich experience. Well that's my theory anyway.
A recent editorial in the Telegraph for The Laundry showed an image of the vintage French Jam jars that I stock in the shop. When you get a bit of publicity like that you realise that you are not alone in your appreciation of the glass jar, as lots of people got in contact keen to get hold of some. (By the way, I sold the ones I had really fast but more are on their way from my French jar hunter, so I'll be in touch again very soon.)
I've been working on how I want my own range of preserves to look, that I intend to sell here at The Laundry. The range will be called Glut Kitchen and I've been looking for the right jars and lids to use as well as thinking about the feel that I want the branding to create. This is all before any jam gets made. Once you start thinking in this way you realise the limitations. It isn't a matter of finding the loveliest jar you can, as you can bet your life it will be far to expensive and impractical to use, making the end price for a jar of jam way over the top.
I thought you might like to see this vintage jar I recently acquired. It isn't French this time, it's British. Yes once upon a time we made such things and did a great job of it. Not only does it have a nice faceted pattern around the sides but it says 'Wye Valley Preserves' around the rim. The jars I choose for my own range wont be anything like as fancy as this and I doubt that in years to come someone will be waxing lyrical about an old Glut Kitchen jar, but fingers crossed they will remember the taste of the jam it contained.