HOW TO MAKE BUTTER
Sunday January 08th 2012, 4:19 pm

I was visiting my Mum in hospital over Christmas and suddenly became aware that I was talking about the price of potatoes. I wisely stopped short of telling how I had bought 2 bags of organic spuds on special offer for just £2 the previous day! Once I realised the mundane nature of my conversation, it struck me as so absurd I was stricken with a bout of hysteria that left me unable to speak for 10 minutes or so, no doubt to the relief of the other family members present.
You see, I find frugality and penny pinching totally dull. Having said that, whereas 6 years ago I wouldn't have been able to tell you the price of butter, times have changed. I'm now a dab hand at rustling up a feast using ingredients from the 'reduced for quick sale' bin at the supermarket and can sniff out a bargain a mile off these days. There seems to be an assumption that preserving is part of a 'make do and mend' mindset but for me it is far from that. It is primarily about the quality of the food we eat, taking notice of and making use of what is often right there on our doorstep, respecting those ingredients and reducing waste in the process. At the same time, by following the seasons through ingredients it certainly reminds me to savour the seasons, so time doesn't simply pass by in a heartbeat.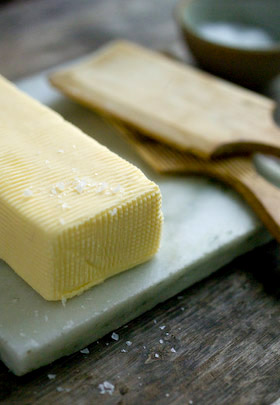 I've been wanting to make my own butter for ages. Having read quite a bit about it, it was a matter of finding the raw ingredient, to have a go. Last June my wonderful canning chum Tigress wrote here about making enough butter to see her through the year, freezing the butter and bi-product buttermilk. Much respect Tigress, who having driven to Vermont to collect the cream, then hand churned it one Mason jar at a time!
Nothing quite so romantic or arduous for me, I was just waiting for the cream to appear at the supermarket on special offer, then my trusty vintage Kenwood Chef would do the hard work for me. With Netherend Dairy just down the road producing butter that is highly appreciated in foodie circles, there is hardly much point in making my own unless the cream comes at a bargain price. Seemingly, once Christmas is out of the way, the supermarkets have plenty of excess cream going cheap, ridiculously cheap. To make butter you need normal double or whipping cream, not the UHT longlife stuff. I bought up plenty last week and have been pleasantly surprised by how much butter it has turned into, much more than I'd expected. Being short of freezer space I now have the problem of where to put it!
HOW TO MAKE BUTTER
900ml (32 fl oz) double cream produced 468g (1 lb) butter and 285ml (1/2 pt) buttermilk
Using a Kenwood Chef or other stand mixer fitted with paddle or 'K' beater, beat the cream on a medium speed for approximately 10 minutes, keeping a keen eye on it towards the end. The cream will thicken then begin to stiffen, then in an instant the butter and buttermilk separate. At that moment you need to be ready to turn the mixer off, otherwise the buttermilk sloshes all over the place.
Pour into a sieve, collecting the buttermilk in a bowl underneath. The butter needs to be washed in water to remove any other buttermilk trapped inside it. Some people use their hands to mash the butter under a running tap, others use a potato masher. Whichever method you choose, the water needs to run clear as any buttermilk remaining will encourage the butter to go rancid quicker.
Once all the buttermilk is away you can press the butter into a bowl or give it a good wacking with butter pats, which leave lovely traditional ridge patterns on the surface. If you wish to add salt then this is the time to work it through the butter so it is evenly distributed. The butter can be wrapped in waxed paper or placed in sealed storage boxes before freezing. The buttermilk can be used for baking and I have frozen some in smaller cup-sized containers so they are handy sized for when I want to make scones, soda bread or my blueberry buttermilk and almond cake – yum!
This apricot vanilla buttermilk scone recipe is another great way of using both butter and buttermilk. I love making these for breakfast as they aren't too sweet and are soft enough to be eaten without any extra butter spread on them. You can of course add a dollop of jam if you really have too and serve them for tea later in the day.
APRICOT VANILLA BUTTERMILK SCONES
Makes approx 10 small, 5cm (2in) diameter scones
60g (2oz) dried apricots, soak in boiling water for an hour or more, drain then pat dry with kitchen towel before chopping into small chunks
225g (8oz) self-raising flour
pinch of salt
75g (3oz) butter
30g (1oz) caster sugar
1tsp vanilla extract
4-6 Tbsp buttermilk, plus a bit more if needed and to brush the tops
Flaked almonds
Pre heat the oven to 220C (425F) Mk7
Sift the flour and salt into a bowl. Cut the butter into pieces and rub into the flour until the mixture resembles breadcrumbs. Add the sugar and dried apricots. Mix the vanilla extract into the buttermilk and add it to the flour mixture, working quickly with a fork to form a dough which is soft but not sticky. Bring the mixture together and with floured hands press it onto a floured surface so it is about 2.5cm (1 in) thick.
Cut out scones and place on a greased baking tray. Push the dough offcuts together again and cut the last scone or 2 from that, so none goes to waste. Brush the tops with buttermilk and sprinkle with flaked almonds. Bake for 15-20 minutes until they are risen and starting to be tinged golden. Remove from oven and eat them warm. They are lovely split and toasted later on too.