MISTLETOE AND A HEAD COLD
Wednesday December 10th 2008, 5:18 pm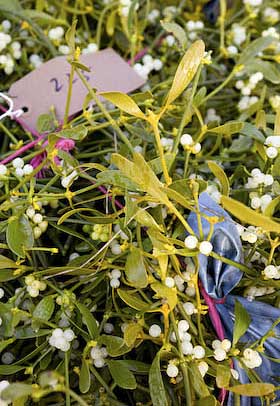 Each year the Tenbury Wells Mistletoe auction is held over 3 days and I usually manage to remember after the event (regular readers will be familiar with this scenario). This year I put the date in my diary then two days before came down with the lurgey and spent a day in bed trying to recover enough to drive up to Tenbury. I'm so glad I made myself make the 70 mile trip, it would have been so easy not too.
The area where I live, the Forest of Dean, is one of the best places in the country for native British mistletoe, along with Herefordshire and Worcestershire, where a proliferation of orchards gives this parasitic plant plenty of opportunity to flourish. Changes in how orchards are tended may mean that, long term, mistletoe could be in danger, but for now at least, this is a bumper year and the berries are in abundance.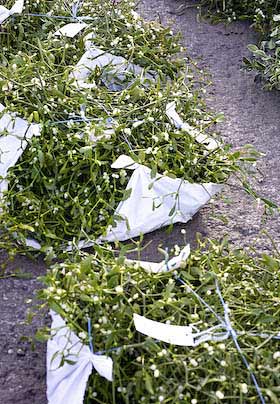 The auction is quite a sight to behold with row upon row of bundled up mistletoe divided by channels of muddy ground for strolling down to peruse the quality of the lots. There is other foliage for sale as well with different varieties of holly covered with red berries and some, simply green and glossy, without berries. The sellers bundle up their wares in different ways, using bits of old plastic feed bags, woven groundsheets and various colours of twine and each bundle is then labelled with the sellers name and a lot number.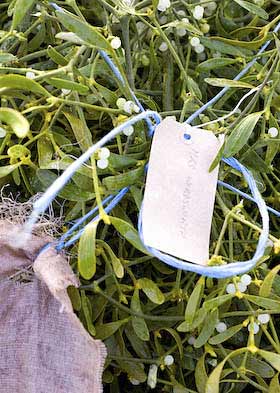 It is a long cold day as the auctioneer and the buyers make their way along the lines and the successful bidders heave their winnings away, filling the backs of trailers, vans and cars for distribution throughout the country. If you buy some mistletoe from a florist over the next few weeks it may have come from this auction.