A PURVEYOR OF OLD TATT
Tuesday August 18th 2009, 5:08 pm

I've just been out on a little jaunt. Feeling haunted by thoughts of a kitchen cabinet, spotted on my wanderings yesterday but not purchased at the time I decided that £5 was a snip for this modest item with original 60's patterned formica top, and so closed the shop for an hour to go and buy it. I would most likely have saved the cost of the cupboard in petrol money if I'd bought it yesterday – such is the folly of cost cutting mind games.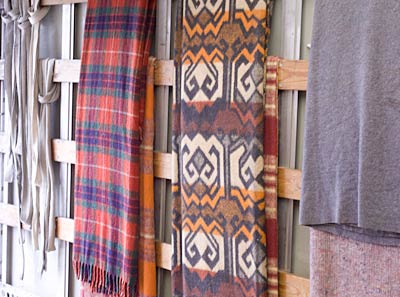 The cupboard was at my favourite second hand place in the forest, called Gorsty Knoll. I am in two minds as to whether I should make the name public, as I don't really want the world and his wife trying to find it, but in a way, the name is as strange as the place, so I think it merits a mention. Basically, this second hand furniture dealer sells a load of old tatt; house clearance boxes, old cutlery that has seen better days and that was never up to much in the first place, divan beds and comfy but ugly sofas. There is always a big pile of broken furniture by the door, chairs missing a leg and bits of rusty old bedsteads.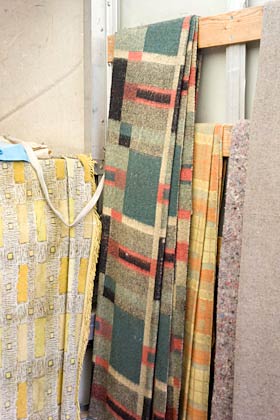 I absolutely love the place. You always feel that there is a hidden gem just waiting to be discovered and I have found a few over the years. This guy doesn't seem to bother with textiles. I've asked him before and he says that linens are usually thrown away or taken to the charity shop. As I was leaving with my new purchase in the back of the car I caught a glimpse in the back of his van, the van he uses to do his house clearance jobs and thought how great all the blankets looked hung on the bars lining the inside. He thought I was mad when I asked if I could climb inside and take some pictures, he hadn't ever looked at them in that way. As I drove away I realised that the road was lined with wild damson trees covered in fruit, screeched to a halt, parked up pronto and filled a bag with them. What a flippin' fab day out.