POACHED QUINCE ON MY PORRIDGE
Tuesday November 16th 2010, 10:36 pm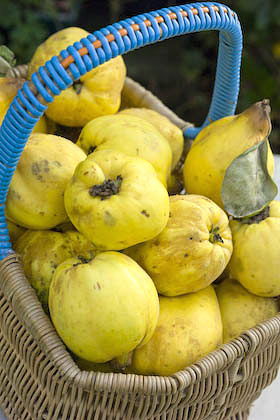 Month eleven, already the penultimate month of Tigress's can jam canning challenge and for November the ingredient chosen by the talented artisan preserver Confituras aka blogger Cosmic Cowgirl is apples, pears and quince, a versatile selection of orchard fruits with delicious potential.
I could find a gazillion uses for each of these, but have chosen luscious quinces for this canjam contribution. A few days ago I used up the last quince of the year. I always vow to bottle plenty and never seem to achieve my ambition. Once this fruit grabs you, you are totally smitten. Considering how fab they are it surprises me that quince aren't more popular; they are still seen as an unusual fruit. You have to seek them out and may find a supply at a farmers market, otherwise you need your own quince tree or to know someone else who has one. They take at least 5 years to produce fruit by the way if you are thinking of planting one.
They are one of the few fruits that I love so much, I'd pay real money just for a whiff of, never mind a taste of, each year, though this time was lucky enough to find a supply for free when someone kindly advertised quinces up for grabs on the local Freecycle. I moved at the speed of light to get round to that house, believe me. These Freecyclers had 2 trees heaving with fruit, that were so laden they had had to be propped up with stakes and ropes. It gave me the opportunity to see quinces growing on the tree for the first time and to notice what untidy trees they are to produce such exceptional fruits.
Of course, one of quinces magical qualities, apart from the wonderous unmistakable scent, is the way a hard unpalatable fruit turns delicious at the same time turning such a wonderful shade of deep ruby red as it cooks. I'm generally of the mind that long cooking times are of no benefit to ingredients, but quince turns this notion on its head. You need to slow cook 'em and slow cook 'em till they change colour, which can take 3 – 6 hours.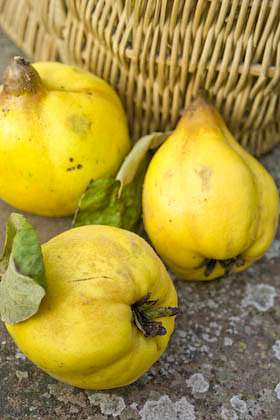 As regards the pantry, I want a supply of quince in spiced vanilla syrup, as straightforward as that. This is when canning makes such perfect sense and in theory allows you to preserve such a fabulous ingredient to last you all year round till the next time, though I haven't managed that thus far. Preserving enough quince in jars is my ambition. A favourite way to serve them, on oatmeal porridge with Greek yogurt for breakfast. As simple as that. To prepare, they are quite hard work to peel and cut, so don't expect elegant slices.
POACHED QUINCE IN VANILLA SYRUP
To fill 2 x 500ml (1 pint) jars
6 – 8 quinces
1 lemon
600ml (2 1/2 cups) water
250g (1 cup) sugar
1 cinnamon stick
1 vanilla pod
a few cloves
Scrub the quinces to remove the fuzzy coating. Peel, quarter and core the fruit. Cut each quince quarter into 2 or 3 slices, depending on the size of the fruit and immediately drop them into a bowl of acidulated water (water with some lemon juice added, as they discolour very quickly if you don't).
You can put peel and cores in a pan, cover with water and simmer for 4 hours, topping up with more water if necessary, then pour into a jelly bag, collecting the juice that drips through overnight. You can use this juice to top up the syrup if you find you need more to fill your jars and use what is left to make quince jelly. I also put the pulp left in the jelly bag through a food mill to make a quince puree, so nothing goes to waste.
Preheat the oven to 110 C (225 F, Mk 1/4). Make a sugar syrup by heating the water and sugar together, stirring until the sugar has dissolved. Drain and place the quince slices in a large ovenproof casserole, adding the cinnamon stick, cloves, a few pieces of lemon peel and the vanilla pod, after splitting it lengthways and scraping and the seeds out from the middle. Pour the syrup over the fruit and spices. Put the casserole on the hob and bring to the boil then remove from heat. Place a lid on the casserole and cook in the oven for 5 – 6 hours.
Another way to cook the quinces is to use a slow cooker. Place the quince, spices and hot sugar syrup in the slow cooker casserole and cook on high for the first hour, then turn down to low and cook for 6 – 8 hours, by which time the fruit will have turned a deep red wine colour.
Prepare the water bath, jars and seals ready for canning. For more info about how to hot water process, refer to the guide here.
Fill hot jars with quince slices, distributing the spices and vanilla pod amongst the jars and top up with syrup, leaving the required headspace for your type of jars. De-bubble, to remove air pockets, wipe the jar rims clean then seal and process for 15 minutes. Remove from the water bath and leave till completely cold before testing the seals and labelling.
OATMEAL PORRIDGE
For 2 people
100g (1/2 cup) organic medium oatmeal
650ml (3 1/4 cups) water
a pinch of salt
Toast the oatmeal in a pan for a few minutes, stirring with a wooden spoon until you begin to smell the toasted oat aroma. Add the water and salt and bring to a simmer, then cook for 20-30 minutes until thickened as you like it and cooked through, adding more water if necessary. That's all there is too it!