LET'S GET READY TO JUMBLE
Friday March 14th 2008, 6:30 pm

I went up north for a few days last week and made sure to visit the car boot sale in Preston whilst I was there. It is the best sort of car boot, in so far as there is always so much total rubbish on sale that it fills you with optimism that a bargain is just waiting to be found in one of the grubby house clearance boxes.
I only bought 3 old cookery books but felt that my rummaging time was time well spent. One of the books, Good Food by Ambrose Heath, is an absolute corker. Unfortunately, it long ago lost its dust jacket (which I would love to see) and from the outside it seems quite uninspiring, battered linen, aged and discoloured beige, but inside is such a treat. It is often said that nothing is new and this book clearly proves the point. It is set out month by month with recipes using seasonal produce and rather than the recipes being laid out in the usual manner it has running text with the recipe headings written in the margins. A bit like Nigella Lawson's How To Eat. I bet you anything that in the editorial meeting when they came up with the format for Nigella's book they thought they were being groundbreaking. In fact they were pipped to the post by 70 years, Good Food was published in 1932.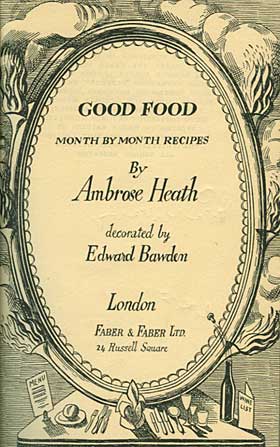 To make the book even more fabulous it is illustrated by Edward Bawden, with an image to represent each month as well as some smaller incidental images of cooking implements and produce. If only it still had its dust jacket, I imagine that would be really special. Of course now I am on Ambrose Heath alert and am looking out for more of his books. Apparently he was a very prolific cookery writer (1891-1969) and wrote around 100 books on just about every food subject and ingredient under the sun. I would particularly like to see 'Open Sesame – The Way of a Cook With a Can' published in 1939 (sorry Delia, he beat you too it).
Anyway, keen to try out some of his recipes I spotted one for Orange Jumbles, which are a flat sprawling biscuit made with flaked almonds and orange rind and juice. I am getting ahead of myself here as they are in the April chapter but as we can usually find oranges of some kind all-year-round and recipes with funny names are always a good thing then why not?. I decided to experiment and have had to make them a few times to get the recipe right – hard work but somebody had to do it. I have substituted some of my Seville marmalade as an ingredient, missed out cochineal, who on earth uses that these days, and they seem to have worked out pretty well. Ambrose didn't seem to believe in molly-coddling his readers and the recipes are suitably vague on technique.
Of the Orange Jumbles he writes, 'To say that they are indescribably charming really describes them'. If I wasn't so busy eating my way through a plate of jumbles I'd say 'I couldn't agree more'.
Here's my recipe for Marmalade Jumbles.