FAMOUS FIVE GO MAD FOR MACAROONS
Tuesday April 22nd 2008, 7:05 am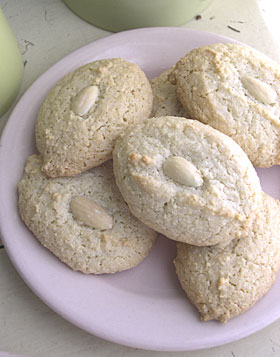 My Mum lives 160 miles away so every morning we speak on the webcam. The other day she was trying to remember someone's name but, though on the tip of her toungue, the words just couldn't be found. 'Oh you know…., Enid Blyton….' she kept saying, to which I replied, 'Do you mean Delia Smith?', and she said 'yes, that's who I mean'. This made me laugh out loud, but the more I have thought about it since, the more perfect this juxtaposition becomes.
So in order to find a peg to hang my latest blog post on, here is a recipe for macaroons, which I feel sure would have made fitting fare for The Famous Five (don't try saying that in a hurry). The ones I've made are almond macaroons but they can also be made with coconut or hazelnuts and, I must admit, any variation appeals to me.
Freshly made macaroons are just heavenly and are my new discovery. They are so quick to make, you'll wonder why you don't make them on a regular basis. Are they a biscuit, are they a cake? The main thing is not to overcook them. They can bear to be undercooked and squidgy but once high baked they become so hard they hurt your teeth. The first time I made them I lined the baking tray with rice paper because it seemed a nice traditional touch and I just happened to have a packet in the cupboard that had been there for a very long time unopened so it was an oportunity to use it up, but I wont bother in future as that detail has no bearing whatsoever on the finished article.
I'm not sure though that they make a fitting accompaniment to lashings of ginger beer but a cup of tea does the job nicely.
Almond Macaroons – makes 14
150 g ground almonds
200 g caster sugar
3 egg whites
1 level Tbsp plain flour
1 tsp of good quality amond extract
7 blanched almonds, halved
Pre heat the oven to Mk3, 160C, 325F.
Mix the almonds and sugar then stir in the egg whites, followed by the flour and extract. Place dessert spoonfuls, spaced apart on a baking tray. Push a halved almond on the top of each macaroon and bake for 20 – 25 minutes till just starting to appear golden. Keep you eye on them, you don't want them to be overcooked. Leave to cool on a wire rack. They firm up as they cool.