FESTIVE JAM FROM FAR FLUNG PLACES
Monday December 19th 2011, 9:57 am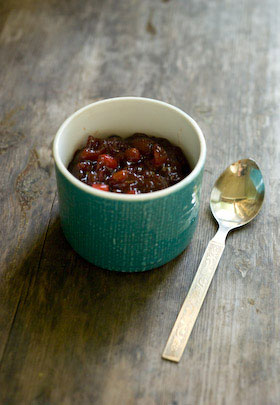 I prefer to use the ingredients I find on my doorstep, but sometimes occasion decrees it's time to push the boat out. I'd love to find homegrown cranberries but have never seen them for sale on my travels, though Sainsburys are selling Kent grown cranberries this year, but only available in that area. So for my special Christmas jam, my cranberries are from the US, dried apricots from Turkey and pineapple from Costa Rica. I hope all you locavores will forgive me! For some of you lucky enough, these ingredients will be on your doorstep.
I saw mention of this combination in an old book of mine and thought it worth exploring. In that recipe the pineapple came in a tin and for my first experiment I used a tin of crushed pineapple in natural juice. Having noticed fresh pineapples not much different in price to tinned, I decided to use fresh for my second batch. Both work well with perhaps the fresh having just that added zing you might expect. The final flourish – apricot brandy, just makes this fabulous jam extra special, befitting the season.
The fruits cook down to a 'feltly' consistency, which from my experience means you need to watch it doesn't catch on the bottom of the pan and burn. So don't leave the bubbling jam kettle for even a minute or your jam may be spoilt. My recipe calls for relatively little sugar. This does mean that it is advisable to store the preserve in the fridge or the ideal alternative, do like I do and can it. That way it will store for a year or even longer. Serve on toast, scones or with your celebration meal as a relish. I'm off to make some more.
CRANBERRY, APRICOT AND PINEAPPLE JAM
Makes 1.3Kg (5 x 1/2pt jars)
1 med size pineapple, approx 1100g (2 1/2lbs) in weight or a 432g (15oz) tin crushed pineapple in juice
150g (5oz) dried apricots
300g (1x 12oz pack) fresh cranberries, rinsed and drained
450g (1lb) sugar
apricot brandy (optional)
Prepare the pineapple; slice off the top and base and pare away the skin. Chop down through the centre lengthways and cut into 4, then remove the woody core. Slice the flesh into chunks then pulse in a food processor to give a fine texture. Pour into a sieve over a bowl and collect the juice that drips through. With my 1100g pineapple, this gave me 280g (10oz) pulp and 200ml (7 fl oz) of juice. (You don't need to be spot on here just aim for approximately that amount.) Chop the apricots into small even pieces and place in a bowl with 200ml (7 fl oz) of boiling water plus the pineapple juice and leave to soak for several hours or overnight.
If you plan to can (water process) your jam, prepare the water bath and jars and place jar seals in a pan of hot water on the hob. Alternatively, prepare clean jars by sterilising them in a low oven, keeping them warm till needed. Place the cranberries, apricots, crushed pineapple and soaking juices in a preserving pan. Add another 200ml (7 fl oz) water and cook gently for approximately 20 minutes, until the cranberries have started to pop and the mixture combines and takes on a ruby glow. Remove from heat for 5 minutes then add the sugar. Stir over a gentle heat until completely dissolved, then up the heat and bring to a rolling boil, taking great care that it doesn't burn. It only takes 5-10 minutes before you can see the texture is thickened and a small blob on a cold plate will hold its shape. Turn off the heat. Leave for 5 minutes then stir in 3-5 Tbsp apricot brandy.
Pour into prepared hot jars leaving 0.5cm (1/4in) headroom, tap jars on worktop to de-bubble, clean rims and seal, then process for 10 minutes. Remove jars from water bath and leave until completely cold before testing the seals. Alternatively, pot the hot jam into clean hot jars and seal then store in the fridge when cold.