STORING BRAMLEYS & APPLE GINGERBREAD
Sunday November 14th 2010, 2:04 pm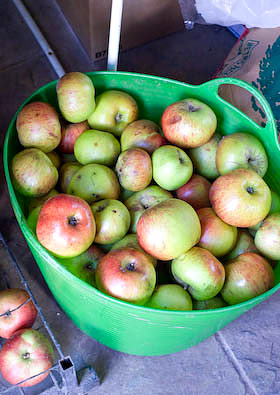 Bramley Seedling apples are one of the most popular apples grown for cooking in the UK. They are an apple that stores well; if kept in the right conditions they should keep for 6 or 7 months. Even so, I will still be using some to make apple sauce, pie fillings and apple butter, processed in jars to stock the pantry. It is just really convenient to have some jars already to go.
If you have some Bramleys you want to store, choose the best unblemished fruit for longer storage and use up any bruised fruit first. It is usually a good idea to wrap fruits separately in tissue or newspaper, but there is no need to do this with Bramleys, simply arrange them so they aren't touching each other by placing them in shallow drawers or crates. A dark cool frost-free shed, garage or cellar is the ideal place, preferably with an optimum temperature of 6 – 7 degrees C. Make sure to check them every few weeks and weed out any bad apples before they have any influence on the rest.
Here is another easy recipe that uses more of the same apple puree I made for the apple cake recipe posted yesterday. I'm very partial to cake recipes where the butter is either rubbed into the mixture or melted. Even though I have the help of my trusty vintage Kenwood Chef, I for some reason avoid the creaming the butter and sugar together thing whenever I can. Anyhow, this apple gingerbread cake is perfect for serving in the afternoon with a cup of tea and can be rustled together as quick as a flash if someone decides to call round. I have put a thin layer of ginger icing over the top of the cake. Another alternative that I think could work well would be an apple cider syrup poured over the cake after piercing the top with a skewer. Next time perhaps …
APPLE GINGERBREAD
First make the apple puree:
500g (1lb) bramley or other cooking apples, peeled, cored and roughly chopped
125ml (1/4 cup) of cider or water
125ml (1/4 cup) maple syrup or sugar to taste
Place the apples in a pan with the cider or water and bring to a simmer, then cook gently for around 20 minutes, until the apples become a fluffy puree when stirred with a spoon. Add the maple syrup or sugar to taste. Leave to cool. This will make slightly more than you will need, but it leaves a bit extra to serve with the gingerbread.
175 g (6 oz) plain flour
2tsp baking powder
1tsp ground ginger
3 cloves, 5 black peppercorns and the seeds from 4 cardamons, ground fine in a pestle and mortar
85g (3oz) brown sugar
100g (4oz) golden syrup (is this what is called corn syrup in the US?)
85g (3oz) butter
125g (5oz) apple puree
30g (2 lumps) stem ginger, roughly chopped
1 egg, beaten
Preheat the oven to 180C (350F, Mk 4). Grease a 20cm (8in) square baking tin and line with baking paper. Sift the flour, baking powder and spices into a bowl. Place the brown sugar, syrup and butter in a pan and heat gently till everything is melted and combined then leave to cool. Add the syrup mixture and all the remaining ingredients to the flour and spices in the bowl and mix together to combine. Pour the mixture into the prepared tin and bake for 25 – 30 minutes. Remove from the oven, leave to cool for a short time until firm enough to turn out onto a cooling rack.
To ice the cake:
85g (3oz) icing sugar
1 Tbsp stem ginger syrup
1-2 tsp warm water, if required
Sift the icing sugar and add the syrup. Mix together, adding some water if needed to a spreadable consistency. Pour the icing over the still warm cake and spread evenly with a knife. I like a very fine layer of icing on my cake. If you like a thicker icing then double up on the ingredients and make it less runny so it doesn't all run off the top of the cake.