HOW TO MAKE MARMALADE
Tuesday February 12th 2008, 9:43 am

It wasn't that straightforward finding Seville oranges this year and as the season is only for a few weeks straddling January and February I had to seek them out. I managed to order some in specially from the organic deli, which fortunately is very close by. When I went to the one and only greengrocers in the nearest town it had sadly closed down a week before. So Tesco has managed to put another independent out of business and another business that thought it was enough to just sell produce without the help of recipe cards and a loyalty points scheme has learnt the hard way.
Thankfully I now have some beautiful Seville oranges to cheer me up. Last year I made two lots of marmalade using different techniques to prepare the orange peel. For the first batch I pared and chopped all the peel at the beginning which takes ages but is a ritual with some therapeutic value, at least for the first half an hour or so until the novelty wears off. For the second batch I poached the oranges in my wonderful cast iron pot in the Rayburn for three hours then scooped out the innards and chopped the peel. I think the second method is the easiest and now definitely the one I prefer.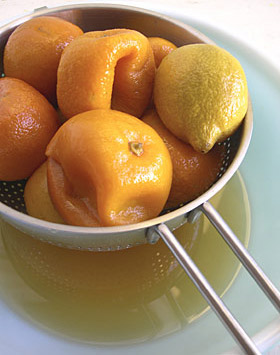 Some of the marmalade I made was beautifully glowing and orange, like looking through stained glass windows when holding the jars up to the light, the rest was slow cooked for several hours in the Rayburn till it ended up deep, dark, rich and caramelised. Both were lovely so I'd be hard pressed to choose which kind I prefer so am now making both types again this year. Find my recipe here.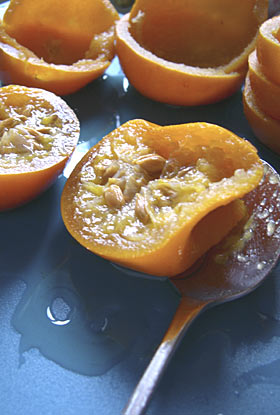 Seville oranges have such a strong character that they can withstand long cooking and still retain their own distinctive personality. You have to respect a fruit like that. It is worth putting some in the freezer so they'll be available out of season for keeping the marmalade stock replenished, for making orange curd as well as for rustling up an impromptu bitter orange tart when called for. Just wash and dry the fruits, pack into plastic bags and seal before freezing.